Presented by Cliff Castle Casino                           Offical Hotel Sponsor GreenTree Inn                          Media Sponsor Cable One BOX OFFICE TICKET PRICES
Online/Phone orders will incur a service charge.
Box Office Hours:  Friday/Saturday  10:00AM until 8:00PM
Will Call tickets are available at any of the open box office windows.  A photo ID will be required when picking up tickets at will call.
Friday Night 7:00PM  - Doors Open 6:00PM
P1 $32 | P2 $27 | P3 $ 17 | P4 $13 | Loge $32

Saturday Matinee 1:30PM - Doors Open 12:30PM
P1 $32 | P2 $27 | P3 $ 17 | P4 $13 | Loge $32
Price levels P2 and P3 special offer - buy one get one free!

Saturday Evening 7:00PM - Doors Open 6:00PM
P1 $37 | P2 $32 | P3 $ 22 | P4 $18 | Loge $37
Bud Light Concert and Rodeo Dance immediatley following the Saturday evening rodeo. 
Ages 21 and up.  Free admission with Fri/Sat rodeo ticket or $5 at the arena box office.
ABOUT THE RAM TURQUOISE CIRCUIT FINALS RODEO
For the second consecutive year, the PRCA Ram Turquoise Circuit Rodeo Finals, featuring the top rodeo participants from Arizona and New Mexico, is coming to the Findlay Toyota Center (Findlay Toyota Center).

Last year's event included multiple former world champions and the competition is expected to be even more intense this year, as hot up-and-comers take their shot at the title against established favorites in Bare Back Riding, Steer Wrestling, Team Roping, Saddle Bronc Riding, Tie-Down Roping, Barrel Racing and Bull Riding. Findlay Toyota Center's unique indoor setting provides an intimate setting, allowing fans to be much closer to the action than in traditional rodeo venues. This year's competition will once again feature three sessions, taking place on Friday evening (7p), Saturday afternoon (1:30p) and Saturday evening (7p). 

As part of the festivities surrounding the RAM PRCA Turquoise Circuit Finals Rodeo (Oct. 5-6), presented by Cliff Castle Casino, Bud Light, Matt's Saloon, and the Findlay Toyota Center have partnered to produce the Bud Light Concert & Rodeo Dance immediately following Saturday night's rodeo. The first time event will feature Arizona's own Jacob Morris Band taking the stage approximately 9:30p.m. to play a full set of his own music and country favorites. Entry into the concert/dance is FREE with any Turquoise Circuit Finals ticket, or just $5.00 at the door, or Findlay Toyota Center Box Office in advance. Attendees must be 21 or over.
Please visit the GreenTree Inn, the official hotel for the RAM Turquoise Circuit Finals Rodeo
Please visit Olsen's, the official sponsor for all of your horse panel needs for the RAM Turquoise Circuit Finals Rodeo
LUXURY SUITES & PREMIUM SEATING
Enjoy the Rodeo from the Comfort of Suite or Loge Level Seats 
Premium seating is great for entertaining clients and friends and tickets start at just $32.
For more information, or to book your seats today, please call Satish Athelli at (928) 458-1611 or email satish_athelli@comcastspectacor.com.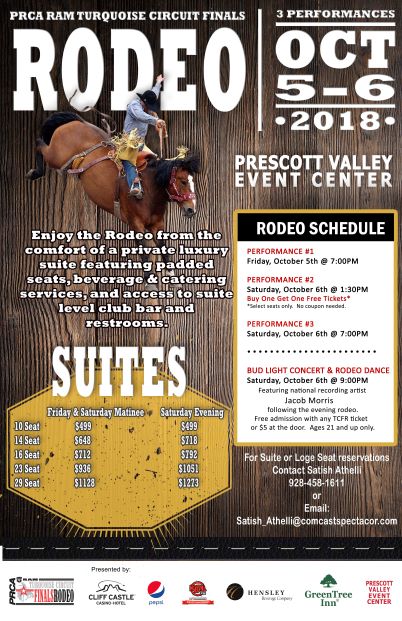 For more rodeo information visit:  https://turquoisecircuitfinalsrodeo.com/