EVENT ADVISORY     SEATING CHART     SUITE & LOGE FLYER     GROUP SALES FLYER 
TICKET INFO:
---
PRE-SALE:                    December 19-20 for Findlay Toyota Center Event Insider members ONLY. Membership is FREE and fans can sign up here   EVENT INSIDER
TICKETS ON SALE:     Friday, December 21, 2019, at 10:00 am                                                                                                               

BOX OFFICE TICKET PRICES:
P1     $52
P2     $46
P3     $37
P4     $24
P5     $14 (obstructed view - behind the chutes)


Tickets can be purchased online at
Ticketmaster.com
 and at the arena box office Monday - Friday 10 am - 5 pm
Please note: Online sales will incur additional fees. Ticket prices increase by $5 on the day of the event.
KNOW BEFORE YOU GO:
---

Check out the Event Advisory for directions, restrictions, and other info.
ABOUT THE EVENT:
---

Doors:            6:00 pm
Pre-Party:      6:00 pm
Event:             7:30 pm

The Mile High PBR is a part of the Touring Pro Division and will showcase some of the rising stars of the PBR, riding alongside fan favorites and veterans, as all the competitors face-off against the most famous bucking bulls in the industry. The Touring Pro Division offers upcoming bull riders the opportunity to compete in PBR sanctioned events while earning money to qualify for the PBR's elite Built Ford Tough World Finals presented by Wrangler. 

Each bull rider will be vying for points toward PBR's top rider award and the 1 million dollar bonus prize. Mile High PBR…it's the most excitement you can pack into eight seconds, and the only chance for fans to see to live PBR action in Northern Arizona during the 2019 season. As part of the event, each rider will face one bull in the Long Round. The top 12 riders in the Long Round will advance to the Short Round. Fans are encouraged to purchase tickets in advance. The best seats with all the up-close action sell fast!

PRE-PARTY INFO:

Danny Romero and the Arizona Territory Band will be back again this year to kick off the PBR with great music in the Coors Light Bull Pen on the arena floor with live music prior to the event. This event is included with your PBR Ticket! Come early and share stories of PBR legends and tough losses while listening to great country music!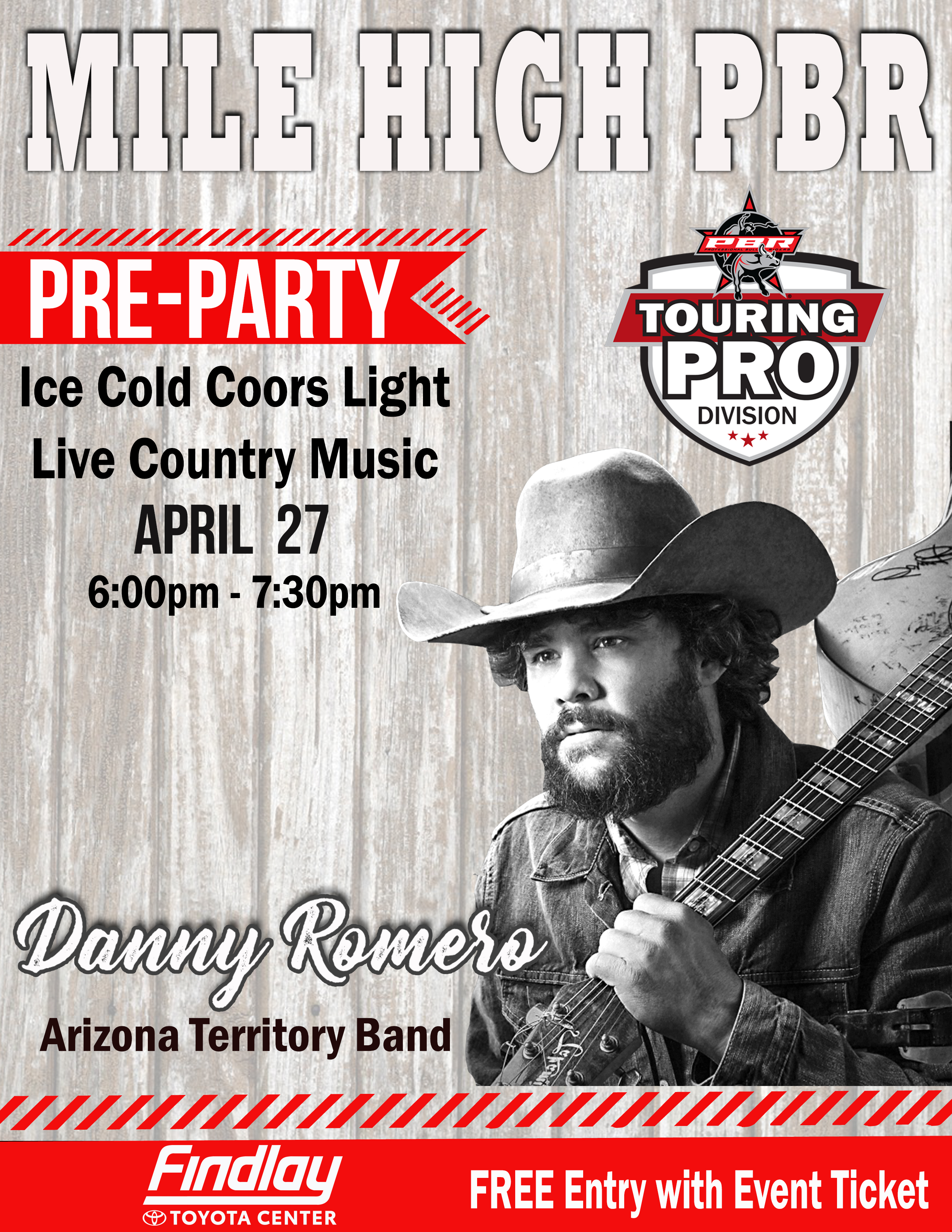 PREMIUM SEATING
---

Watch from the comfort of a Luxury suite as riders from around the world battle it out for the respect and prestige of that coveted 8-second ride.
Also available is our Loge seating area featuring padded seats, beverage & catering services, and access to suite level club bar and restrooms.  
For reservations contact:


GROUP DISCOUNTS
---

For more information contact: